Executive Summary
Welcome to the UWGH Data Collaboration Newsletter. This newsletter features updates from our most recent Governing Body meetings, progress on new features that are being added to the ICJ Tech Tool, referral receiver training recap, reminders for Cohort 3 onboarding, and a new section of the newsletter, Data Safety Moment.
---
Table of Contents
---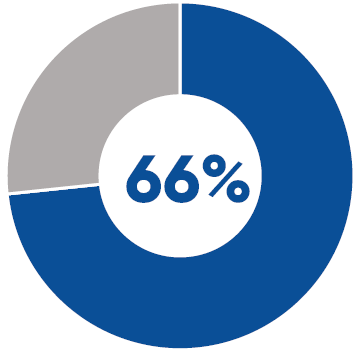 Since the beginning of ICJ soft launch in September to February 16, 2023, 66% of individuals referred to navigation are ready for the journey!
---
Welcome Kinder Institute for Urban Research
In December 2022, we welcomed Kinder Institute of Urban Research at Rice University to the Governing Body. We are excited to include their unique perspective and expertise to the ICJ Data Collaboration. It's through their partnership that we'll bring research into action to improve outcomes for ALICE and our community!
---
Recap from December 2022, January 2023 and February 2023 Governing Body Meetings
In December 2022 and January 2023, the ICJ Governing Body updates were sent out via email in lieu of a virtual meeting. The Governing Body agreed that these updates were well-organized, clear, and concise and 95% of survey respondents indicated the emails contained the correct amount of information. We hope to continue this transparent sharing of information via email should any meetings need to be canceled in the future.
In February 2023, the Governing Body voted adopt the Interim Voting Procedure and the Member and Proxy Turnover Procedure that had been previously voted in in July 2022. The Governing Body members were asked to give their input on Charter revisions by the end of the month, highlighting the collaborative nature of the ICJ data governance structure, as well as organizing workgroups to consider the need for an End User Agreement for users in the ICJ tech tool and the parameters for use of the ICJ tech tool for agencies that may have limiting factors impacting their participation.
PCIC is currently building the process for Anonymous Referrals into the ICJ tech tool and the first iteration to be ready for the end of Q1 2023. Agency feedback is needed to map the services provided and which tiers of use these services fall into in order to best structure access to the ICJ tech tool, based on any statutory constraints that preclude agencies from sharing certain information, and/or vulnerable populations that may require additional privacy protocols around the storing and/or sharing of their demographic information.
The next Governing Body meeting is March 15, 2023.
---
Welcome to our new section of the newsletter! Under the Data Safety Moment, UWGH will highlight cybersecurity, privacy, or data security related topics to support the safe and secure use of the ICJ Tech Tool.
Since the ICJ tech tool soft launch on October 31st, we've held 20 training sessions and trained over 300 nonprofit staff on accessing and using the ICJ tech tool! If you need any assistance with accessing the ICJ tech tool or with making security updates to your agency's approved users, please contact Elias Delgado at edelgado@unitedwayhouston.org.
Please do not share user ID's or passwords with others.
---
PCIC has continued to build and improve the ICJ tech tool. These efforts represent significant steps in preparation for navigators to begin sending live referrals to funded programs on February 13th. In addition to the refinements made on existing platform pages, the following functions have been added:
Client Dashboard - a comprehensive hub for activities to document client information, manage referrals, and track the progress of the client's journey
Resource Directory Administrative Tools - management tools for agency managers to control and update data represented on the platform, including service capacity, contact information, agency descriptions, and more
With the addition of these features, the ICJ is primed to take on the upcoming influx of referrals. Over the coming months, PCIC will continue to roll out improvements to the platform, including a more detailed agency description on the resource directory, the capability to refer clients outside the 105 funded partners, and more.
Stay tuned for more updates on this innovative platform!
---
Recap from ICJ Tech Tool Training
In January and February, United Way and PCIC hosted nine ICJ Referral Receiver trainings for the funded partners. Agency staff who will receive referrals from navigators in the ICJ Tech Tool got the chance to see the tool and get an in-depth look at the workflow they can expect when the navigators start sending client referrals for services.
Agency staff were excited to learn about how to use the tool:
"[What I found more useful was] how easy it seems to be a user of the platform."
-LIFE Houston
"This was my first training regarding this subject, so it was very interesting to learn the process. I am excited about the collaboration between agencies."
-Bay Area Turning Point

---
Thank you to everyone who was at the Cohort 3 Onboarding Kick-off on January 17, 2023. The call covered topics such as the ICJ Collaboration Governance Framework and how it works and what those agencies can expect as they onboard. It was also an opportunity for the agencies to ask questions regarding the Governance Framework, the ICJ tech tool, and next steps. The 3rd cohort will sign a Commitment of Participation letter to join the ICJ Data Collaboration by the end of March.
Cohort 3:
Avenue 360 Health And Wellness
Bay Area Turning Point Inc
Boys And Girls Clubs of Greater Houston Inc
Bridge Over Troubled Waters Inc
Children's Museum Houston
Community Assistance Center
Evelyn Rubenstein Jewish Community Center of Houston Texas (ERJCC)
Focusing Families
Girls Empowerment Network
Harris County Domestic Violence Coordinating Council (HCDVCC)
Hope and Healing Center & Institute
HYPE Freedom School, Inc.
Interfaith Caring Ministries, Inc.
L.I.F.E. Houston
Mental Health America of Greater Houston (MHA)
Montgomery County Women's Center
Multicultural Education and Counseling Through the Arts (MECA)
Network of Behavioral Health Providers (NBHP)
Neighbors in Action, Inc.
NestQuest Houston, Inc.
Partnership for the Advancement & Immersion of Refugees (PAIR)
San Jose Clinic
SEARCH Homeless Services
Southeast Area Ministries
Spring Branch Community Health Center
Texas Society to Prevent Blindness
The Children's Assessment Center
University Speech-Language-Hearing Clinic
Writers in the Schools
Email Julia Holstine at jholstine@unitedwayhouston.org with any questions related to onboarding.
---
Check out the updates and new features to the ICJ Tech Tool here.
Please feel free to share the newsletter with any of your staff that would benefit from the content. We will use this forum every other month to keep all funded partners updated.
If you missed any of the past issues of our Data Collaboration Newsletters, please click here under ICJ Data Collaboration section to view them on our website.
If you are interested in joining United Way of Greater Houston's Partner Microsoft Team's Channel, or would like to share with us any links to interesting things happening in the Houston area and beyond related to data sharing, feel free to contact us using the button below.
---